From the Beautiful Himalayas to strong religious and Cultural bonds with spiritual beliefs, to explore our Home you don't need to be a Mountaineering person to experience. Whatever Fitness Experience you have, we Scenic Nepal Treks provide you suitable trips to make the experience of a lifetime.
Founded in 2014, Scenic Nepal Treks holding its excellence for the past two decades has been fulfilling its motto to provide the best services to all the dignified guests. It is a perfect place for those who choose to explore the heavens of snowy mountains. We win your heart by building bridges of trust with us.
Scenic Nepal Treks is a family company because guests are our family. They bring tranquility to our realm as someone close does. With the support of people who spark their hard work towards the blooming Tourism Sector, our company has been outshining for a long time. It is one of the leading companies that provides the best trekking and well as travel services. We are overly conscious regarding the feelings of customers. We are taught from childhood that Guests are the avatar of the divine soul sent from Paradise. For our company, the comfort of our guests means everything. We also believe that One happy customer could be a magnet for hundreds more. We offer all kinds of trekking and tours including the most popular hikes at Everest Base Camp Trek in Nepal, India, and Bhutan.
WHY ARE WE DIFFERENT THAN OTHERS?
The thing that makes us rare from other touring companies is we believe in connecting the guests by their involvement in customizing their journey by themselves. And another thing is we believe in diversifying the experiences being offered to our guests. To make them see that they have many options on the table. Like adventurous travel/ activities like traveling to somewhere peaceful like day hikes to jungle trails, cultural heritage sightseeing, mountain trekking, etc. Individuals of our packages are truly customized for all ages, groups, families & solo travelers, we offer you complete choice and freedom to unleash your inner happiness.
Stuck in the paradigm of the modern world where there are infinite calls to answer, infinite files to make, infinite judgments to hear, it buries what we truly love and conceal who we truly are. Our brain works when it is left to have some good freedom which ultimately helps it to reflect our true self. To get away from all these concepts of "good life" take out some time to know your purpose. Grow from diverse experiences you'll collect. So to support you on your journey of experiencing adventurous league, tranquil arenas, and healthy places, our agency Scenic Nepal Treks is there.
WHY SCENIC NEPAL TREKS?
Government Licensed Guides:
It is necessary to trust the training, and also the several years of experience in the tourism industry of your guide. So our agency picks the government-certified guides to make your trip comfier as well as safe. The guide we concern for your any kind of travel knows how to speak English, is well trained in the first-aid treatment. To your happiness and safety, we choose the best people.
Fair Payment towards Hardworking Porters and Guides:
We believe in the dignity of labor. Porters in trekking play an important role to carry our luggage from one place to another. Without porter, trekking in the mountainous region is highly impossible. So respecting their effort to make the trek more possible, easy as well as safe, we don't bias porters or guides by paying them less.
The Highest Type of Safeguard Procedures:
By carrying the experience of two decades, we're extremely familiar with trekking equipment, and their installment at high altitudes. We have safety protocols if things turn upside down. It includes trained guides, sound communication systems with head office, and instant local rescue teams. They will be there to help you at any moment of casualty.
Group-based & Customized Travel and Rafting:
Our agency respects your urgency as well as your needs, fitness, and desires. So by sampling our outline packages for you, we respect your choice and let you have all sorts of freedom to modify the plan according to your necessity. Whether be a solo trip or a family trip, by accepting your sentiments we'll arrange groups so that you can socialize. Offering insider adventurous information along with the true character of the exotic locations, we offer the best adventure as well as trekking opportunities.
Sustainable Travel Technique:
To enhance the well-being of people and to protect nature, we follow sustainable modes and enrich lives. We protect places for the future generation. Conserving the natural environment, aiding cultural projects, and strengthening local businesses are the three major resolutions we focus on to set seriously with the issue of sustainable travel and adventurous sports. We also try to take small actions like using paper cups if possible, in our hands to make Mother Earth a better place to live in.
We are offering many Groups Joining & Private Trips with Affordable Price
Your safety is our main concern
We have Experienced, Friendly, and Helpful English Speaking Sherpa Guides. All Guides are well informed and they are trained First Aid
We are a Fully Government and Tourism Authorized Company of Nepal
Our Prices are affordable, but We do not compromise on Quality Service
We are very flexible to our Clients and Our client's satisfaction is our main goal
We do have 100 % trip Success records full of Safety
We do have Good Partnership with Foreign Travel agencies and Leaders
We have been owning Excellence of Certificate by TripAdvisor since 2015 til dates.
we are also affiliated with the Trekking Agency Association of Nepal ( TAAN) and Mountaineering Association of Nepal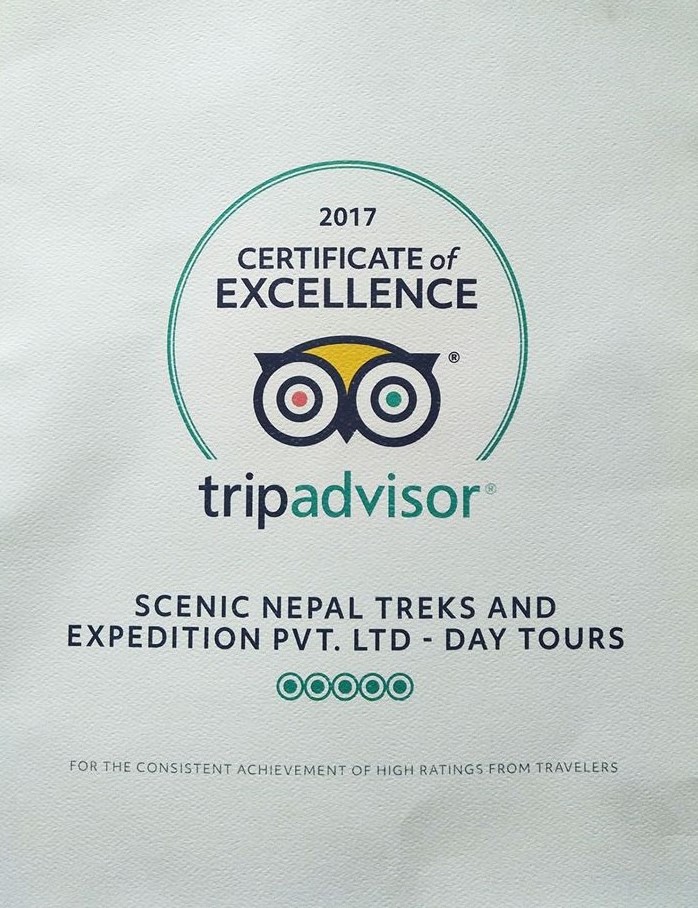 OUR GOALS:
Provide you safe and secure trips at the best price
To be one of the leading traveling companies in the entire world by promoting multinational policies.
To promote historical, cultural, natural, and adventurous arenas of Nepal globally and well as financially.
To provide excellent services to guests and that individual who trusts us.
Zero complaints from guests.
To attract more tourists by fascinating protocols and excellence in services.