Island peak climbing is the most suitable for hiking lovers which is (6,189m) altitude occupied in the heart of the Khumbu region in Sagarmatha National Park. Standing on the top of the Island peak offers splendid
glimpse of world highest mountain Mt. Everest(8,848m) which is enduring moment till the end of your life.
It is considered as Imja Tse, existence of intoxicating climbing participation in pleasing appearance of Himalaya Mt.Nuptse peak, Lhotse Peak, Lhotse Middle, Lhotse Shar, Mt Makalu, Ama Dablam, etc, towering
peaks of landscape, picturesque ambiance, and cultural enthusiast of villagers. To be honest, before going on the hiking trip you need to analyze the area, weather condition and imperil of higher altitude.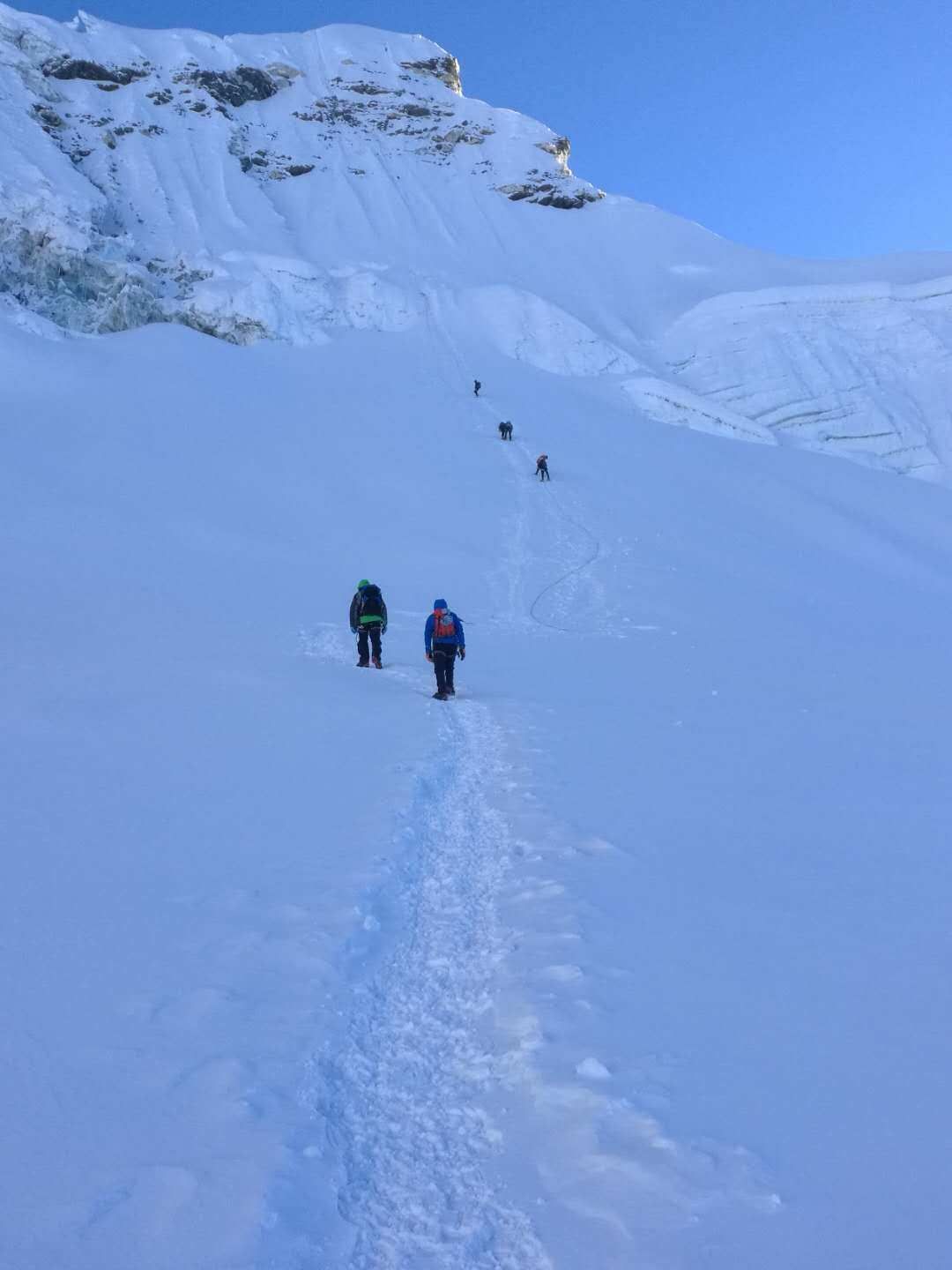 How difficult is the Island Peak Climbing?
The climb is graded as Alpine PD+. It provides thrilling climbing experience along with elegant aspect of different majestic Mountain vision. There is no ambiguity ascend on the Himalayan Range is a self-strong
determination and positive mind. It is possible for anyone who is physically fitness and willing to hike in the Island Peaks. The height of Island Peak top is 6189 meters from Sea level.
Our Scenic Nepal Treks provide as our experience Guide to instruct you on your footsteps. Acclimation and accommodation is quiet issue in the higher altitude so we Scenic Nepal Treks provide the Itinerary throughout
the journey of Island peak for your previous information. 18 Days Everest Base Camp Trek with Island Peak Climbing is very popular
First of all we take a flight from Kathmandu Airport to Lukla Airport (Tenzing Hillary Airport) . To enter in Island Peak there is a single gateway route through Lukla situated in the Everest region of Nepal. Trekking
through the heart of the Everest region, you will reach Island peak. You will follow the Trail to Everest Base Camp Trek untill Dingbouche (4110 m). From Dingbouche Village , we take Right rails to Chukung towards
Island Peak Base Camp (5,100m). Moreover, it lies exactly on the Nepalese and Tibetan border. Island peak is an extension of Lhotse and The Everest.
How fit I should be to do Island Peak Climbing in Nepal?
ANSWERS: Island peak climbing is considered as one easiest Climbing in Nepal BUT it does not mean that it is just a cup of Tea. Climbers should be physically fit and mentally prepared. You need to be able to walk 5-7
hrs per day.
Many people suffer from High Altitude?
ANSWERS: Acute Mountain Sickness (AMS) is very common problem while walking in Himlayas of Nepal. Infact, altitude Sickness is very unpridictable and we never know who is going to Suffer. Never think that you
will not suffer because you are Experience and fit. Our sherpa Guide suffer from it sometime as well.
How to avoid Altitude Sickness?
Acclimatization: After 1000m ascent stay one more night for acclimatization
Do not make rapid ascent
No alcohol, no sleeping pills, no smoking, no sex
Drink more: about 3-4 liters day-clean water (boiled, filtered or medicated), tea, coffee, soup, and juice
No heavy backpacks
Climb higher, always sleep lower
Ascent less than 300m a day above 3.000m of altitude
Everyday Drink 3/4 Ltr water
Eat well and regularly
Wear proper warm cloth while you are in high altitude.
Be aware of wind prevention.
If you have mild symptoms, do not proceed higher. Take aspirin tablets.
If you have worsening symptoms, go down immediately.
Do not leave your team
member behind unattended
We have the collection of your curious about the possibility of hiking in Island is possible or not so we Scenic Nepal Treks try to give you specific information for your queries.
Genuinely, your health and physical condition must be healthier before you ascend for this climb. Besides physical fitness, the key to a successful climb is an excellent technical training. And mostly positive frame of
mind is important for a success and be confident.
To climb lap of the island peak a sufficient amount of time is actually needed for those hiking lovers who want to climb Island Peak.
Tackle each day with courage. Concentrate on each days walking. Enjoy the journey, than just focusing on the top. And, you are already at the summit.
What is the Climbing Success Rate to Island Peak?
ANSWER: 98 % people successfully do their climbing to Island Peak.
What is the Weather Conditions at Island Peak?
ANSWER: Autumn and spring season (April, May, October & November) is the best climatic season for the climbing in Island Peak. To be honest, if you are willing to hiking to feel the sensation of mountain scenery we
Scenic Nepal Treks always welcome to favor you the best attempt as per your interest all through the year except .( January and February).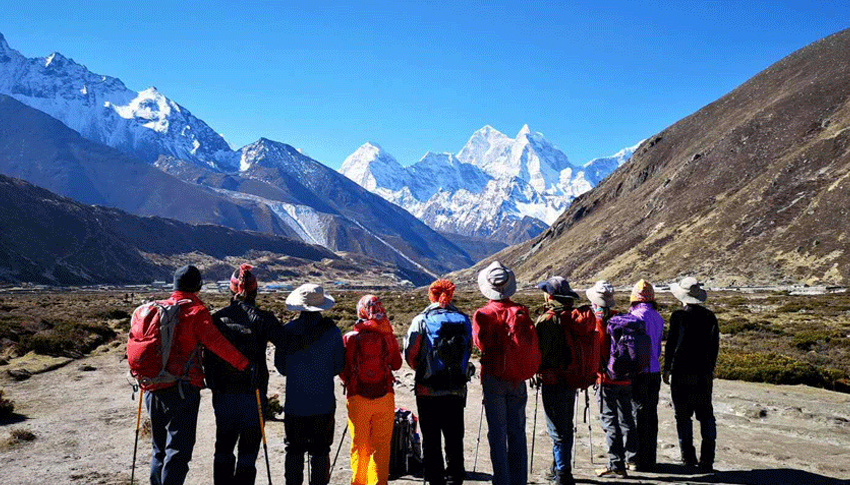 What is the minimum temperature in Island Base Camp?
ANSWER: Normally it depends on the season . You will experience a wide range of temperatures from 15 C to –20 C depending on the month you are looking at climbing Island peak.
If you climbing in April, May, late September and October the day time temperatures range from 0c to 15c on the trek in and typically it is – 5c to – 10c at night on Island peak. Once the sun comes up it gets warmer and
we can see the delightful adventourous scenery. Be prepared for every type of weather when climbing Island peak. Click Here for our Upcoming Trips.
What kind of Accommodations we will have?
ANSWER: During your hiking journey you will stopover in best family oriented tea house/lodges according to the different local circumstances along with good toilet facilities. However, in the upper elevation you have to
share a room with twins. Climbing at the Island Peak Base Camp, you will be stating at Tent. Our Sherpa Team will preapre the Foods for you.
What kind of Food and water should provide during hiking journey?
ANSWER: In Island peak hiking journey, Hotel/ lodges provide nutritious, plentiful and tasty meals which are hygienically prepared to enthrall you even in the mountains under less than ideal conditions as possible. In
addition the most essential you have to drink enough water (4/5 liters) water per day.
What about Fees and Permits for Island Peak Climb?
During your hiking journey there are regular security checkpoints so it is essential to have climbing permit to enter Island Peak as well as Sagarmatha National Park too. There you must show your permits to pass
through them. Basically you need to have Trekking ( Everest National Park Permits) & Island Peak Permits. While Hikinh/Climbing with Scenic Nepal Treks Everest Base Camp Trek with Island Peak trips, these both will
come along with your package price. Permits are for the sake of the environment and for your safety. Do not avoid them. We suggest you get your permit from associated organizations in Kathmandu.
Share us about your plans and preferences; we will get the permits for you.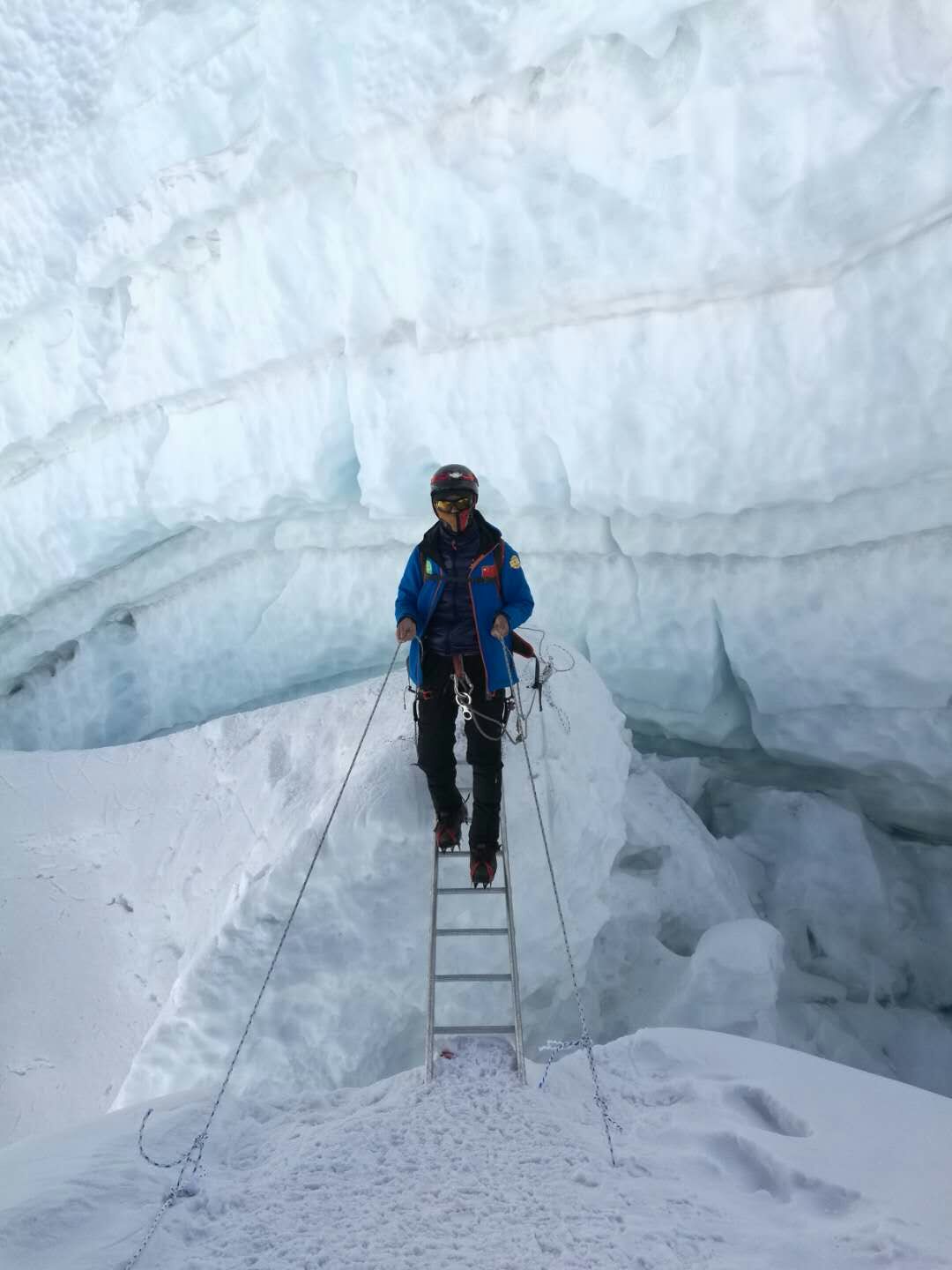 How should you prepare for Island Peak Climb?
ANSWER: If you have previous basic hiking experience it is essential key to succeed to reach Island Base Camp. However, for hiking in the Island Base Camp you need to be physically fit and have some training.
During your trip, a day Before Climbing Island Peak, You will be given Trip Briefing and safety informations by our Sherpa Climbing Leader.
What kind of essential Kits needed for Island Peak Climb?
Climbing Helmet: Choose a good quality climbing helmet. Make sure your warm cap fits under your helmet.
Climbing Boots: High altitude, Insulated stiff-soled climbing boots.
Crampons: C2 crampons that fit your climbing boots.
Climbing Harness: Good quality climbing harness.
Ascending device or Jumar
Descending or belay device
Tape sling: UIAA tested 220cm open tape sling or 2 x 120 cm closed tape sling
Carabiners: 2 x lockable carabiners. 2 x non-locking carabiners
Prusik loop: Best quality prusik loop
Ice axe: An ice axe with a wrist strap for climbing
Tips for Island climbing Peak
Make sure you have the right training
Pack the right clothing and gear.
Climb with a qualified climbing guide.
Create a right acclimatization schedule.
Have previous altitude experience
Know your knots. Have the right attitude!
What are the Equipment Checklist for Island Peak Climbing in Nepal ?
Important documents and items
Valid passport, 2 extra passport size photos, airline tickets
Separate photocopies of passport, visa form (easily obtained at Kathmandu airport), proof of insurance
Dollars, pounds or Euros in cash for purchasing Nepalese visa at Kathmandu airport, for paying for restaurants and hotels, for gratuities, snacks, and to purchase your own drinks and gifts
Credit cards, Bank/ATM/Cash machine cards for withdrawing funds from cash machines (bring a photocopy of your cards), traveler's checks, etc.
Head
Bandana or head scarf, also useful for dusty conditions
Warm hat that covers your ears (wool or synthetic)
Headlamp with extra batteries and bulbs
Sunglasses with UV protection
Prescription sunglasses (if required)
Upper Body
Polypropylene shirts (1 half sleeve and 2 long sleeves)
Light and expedition weight thermal tops
Fleece wind-stopper jacket or pullover
Waterproof (preferably breathable fabric) shell jacket
Down vest and/or jacket *
Gore-Tex jacket with hood, waterproof and breathable
Hands
1 pair of lightweight poly-liner gloves.
1 pair of lightweight wool or fleece gloves
1 pair of mittens, consists of 1 Gore-Tex over mitt matched with a very warm polar-fleece mitt liner (seasonal)
Lower Body
Non-cotton underwear briefs
1 pair of Hiking shorts
1 pair of Hiking trousers
1 pair of lightweight thermal bottoms (seasonal)
1 pair of fleece or woolen trousers
1 pair of waterproof shell pants, breathable fabric
Feet
2 pairs of thin, lightweight inner socks
2 pairs of heavy poly or wool socks
1 pair of Hiking boots with spare laces (sturdy soles, water resistant, ankle support, "broken in")
1 pair of trainers or running shoes and/or sandals
Cotton socks (optional)
Gaiters (winter only), optional, "low" ankle high version
Sleeping
1 sleeping bag (Scenic Nepal Treks will provide you)
Fleece sleeping bag liner (optional)
Rucksack and Travel Bags
1 medium rucksack (50-70 liters/3000-4500 cubic inches, can be used for an airplane carryon)
1 large duffel bag ( Scenic Nepal Treks will Provide you)
A small daypack/backpack for carrying your valuables, should have good shoulder padding
Small padlocks for duffel-kit bags
2 large waterproof rucksack covers (optional)
Personal Climbing Gears:
Ice axe ( Scenic Nepal Treks will Provide you)
Crampons
Harness
Tape slings (2)
Screwgate karabiners (2 lock, 2 unlock)
Descender/eight figure
Plastic mountaineering boots
Ascender/Jhumar
Helmet ( Scenic Nepal Treks will Provide you )
Medical
Small, personal first-aid kit. (simple and light)
Aspirin, first-aid tape, and plasters (Band-Aids)
1 skin-blister repair kit
Anti-diarrhea pills
Anti-headache pills
Cough and/or cold medicine
Anti-altitude sickness pills: Diamox or Acetylzolamide
Stomach antibiotic: Ciprofloxacin, etc. Do not bring sleeping pills as they are a respiratory depressant.
Water purification tablets or water filter
1 set of earplugs
Extra pair of prescription glasses, contact lens supplies
Practical Items
1 small roll of repair tape, 1 sewing-repair kit
1 cigarette lighter, 1 small box of matches if you do smoke
1 compass or GPS(optional)
1 alarm clock/watch
1 digital camera with extra cards and batteries
large Ziplocs
1 water bottles (1 liter each)
1 small folding knife
Binoculars (optional)
4 large, waterproof, disposable rubbish sacks
Toiletries
1 medium-sized quick drying towel
Toothbrush/paste (preferably biodegradable)
Multi-purpose soap (preferably biodegradable)
Deodorants
Nail clippers
Face and body moisturizer
Female hygiene products
Small mirror
Personal Hygiene
Wet wipes (baby wipes)
Tissue /toilet roll
Anti-bacterial hand wash
Extras/Luxuries
Reading book
Trail map/guide book
Journal and pen
iPod
Travel game i.e. chess, backgammon, scrabble, playing cards (to help you pass the time at teahouses and/or camps)
1 modest swim suit
Binoculars (optional)
Voltage converter (from 220 to 110)
Plug adapter (2 round pegs to 2 flat pegs)
Lightweight pillow case (in case your teahouses provide you with pillows) or use your own stuff as a pillow
Note: Cold is depends on which season you do . If you do in Winter ( Dec to Mar), it can be minimum -30C at Base Camp outside.