Thousands of Thousand Hikers from around the world do Everest Base Camp Trek in each Year. Getting at the Base of World's Highest Peak Mount Everest offers you an Experience of Lifetime. Explore the breathtaking views of Mt. Amadablam also known as the "Mothers God", Everest Views itself and amazing Sherpa People and Culture makes your trip very unforgettable.
Month of May is a Good month to do Everest Base Camp Trek. May is also considered as beginning of climbing season in Nepal. At Everest Base Camp (5,360 m), you will see hundreds of Hundred Climber on their camp and preparing their expedition to Everest. Sametime if you have few more days ( 17 Days ) Everest Base Camp Via Gokyo Lake is also one of Popular Hike. May is best time if you like to avoid very cold and snowfall but you still get to have an experience of walking at Snows.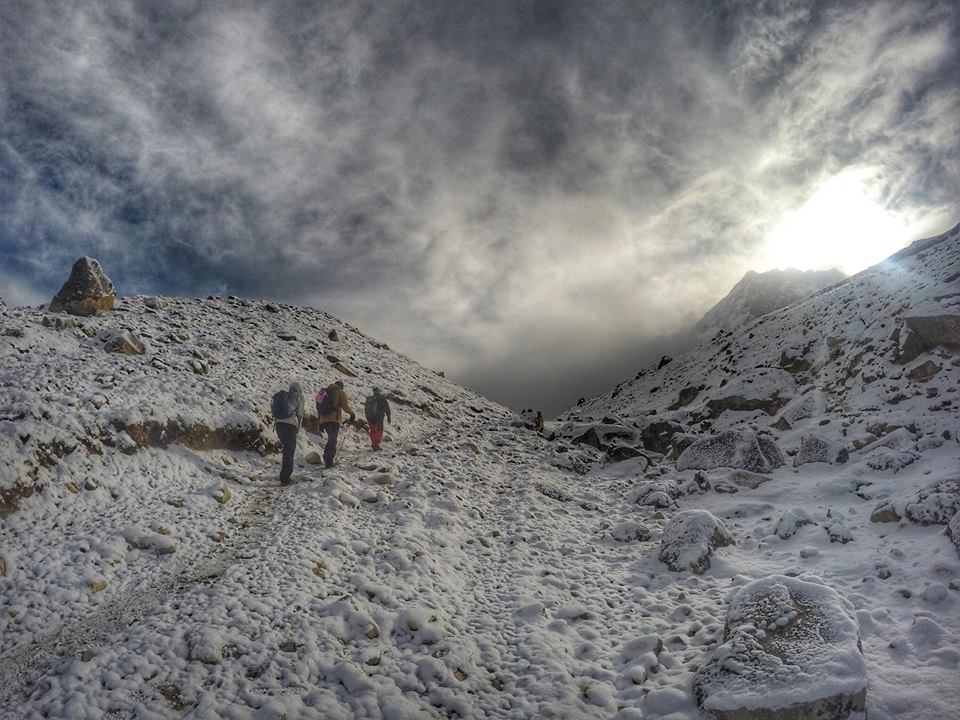 Everest Base Camp Trek Temperature in May:
Above 2800 to 3000 meters 12C to 15C to (Daytime), 5C to 7C ( Night time)
Above 3000 Meters 10C to 15C (Day time), -10C to 5 C ( Nighttime)
At Everset Base Camp: -15C to -5 C
Lukla Flight Cancelations and Delayed:
In general, May is considered as one of best time to do Everest Base Camp Trek. Mostly Sky is cleared and flights to Lukla is on time. Therefore May is Good time to avoid Flight Cancellation and delay as well.
Best Program to Everest Base Camp:
Our 14 Days Everest Base Camp trek is one of best hiking program which includes 2 nights in Kathmandu and 11 Nights in Mountain. Upon your Arrival at Kathmandu Airport, you will be met by one of our representative and take you to the hotel, meeting with Guide and Program Briefing. Therefore from your arrival to Kathmandu till departure from Kathmandu, you will be accompany by our Sherpa Guide and Office Representative.
Physical Condition & Experience Requirements
Trekking to Everest Base Camp is moderate trek, which is good for those hiker who has hiking experience. You don't need to have any special training, however you need to be able to walk and physical fit. Please do tell us if you have any preexisting medical condition such as heart, lung, and blood diseases.
Meals
During your trek, your food will be served with menu, where you can ask yourself. In program, we have included your Breakfast, Lunch, and Dinner. For the Food, you will get all dishes including Nepalese and Western. However, in Kathmandu only breakfast will be included.
Leader and Staff Arrangements
For us, most important things of entire trip is to provide best holiday experience with full of safety. You will be walking with Your Sherap Guide and Porter. And number of porter will be defined as per number of members in your group. In general, 1 porter carry 2 person bag which will be between 20-25 kg in total. If number of person goes above 8, we will also provide you assistance Guide. However Porter is optional for you.
Travel Insurance
It is very necessary to have Insurance to attend this trek. You need to have Trekking insurance which you can buy in Your Own Country. Please make sure Your insurance will cover all your expense such as Air Ambulance, Helicopter Rescue and treatment Cost.
Trip Highlights:
Local Town of Namche bazaars - a Popular Sherpa People Town
Panorama view from Syangboche including Mt. Everest 8848m
Sherpa people and culture
Closed view of Thamsherku,Amadablam & pumori
Sunrise view from kalapatthar including breathtaking views of Mt. Everest
Everest base camp an altitude of 5360m
Khumbu glacier, one of the biggest glacier in Himalayas
Popular Itinerary:
Day 01: Arrival In Kathmandu
Day 02: Fly to Lukla, trek to Phakding (2,651m/8,700ft): 40 minutes flight; 8km, 3 - 4 hours trek
Included meals: Breakfast Lunch Dinner

Day 03: Phakding to Namche Bazaar (3,438m/11,280 ft): 11km, 5 - 6 hours
Included meals: Breakfast Lunch Dinner
Day 04: Acclimatization Day - Namche Bazaar: (3,440m/11,284ft)
Included meals: Breakfast Lunch Dinner

Day 05: Namche Bazaar to Tengboche (3,870m/12,694ft): 10km, 5- 6 hours
Included meals: Breakfast Lunch Dinner
Day 06: Tengboche to Dingboche (4,360 m/14,300 ft): 9km, 5 - 6 hours
Included meals: Breakfast Lunch Dinner
Day 07: Dingboche: Acclimatization
Included meals: Breakfast Lunch Dinner
Day 08: Dingbouche to Lobuche (4,940 m/16,207 ft): 4km, 2 - 4 hours
Included meals: Breakfast Lunch Dinner
Day 09: Lobuche to Gorak Shep (5,170 m/16,961ft), visit Everest Base Camp (5,364 m/17,594 ft): 13km, 6-7 hours
Included meals: Breakfast Lunch Dinner
Day 10: Gorak Shep to Kala Patthar (5,545m/18,192ft) to Pherice (4,288m/14,070ft): 16km, 7-8 hours
Included meals: Breakfast Lunch Dinner
Day 11: Pheriche to Namche Bazaar (3,440m/11,280 ft): 20km, 6 - 7 hours
Included meals: Breakfast Lunch Dinner
Day 12: Namche Bazaar to Lukla (2,860m/9,186ft): 19km, 6 - 7 hours
Included meals: Breakfast Lunch Dinner
Day 13: Fly back to Kathmandu
Included meals: Breakfast
Day 14: Final Departure
Find More Details here: 14 Days Everset Base Camp Trek
Trekking Checklist:
If you are prepared and well equipped, your successs rate of Everest Base Camp Hike is always higher. Good Hiking shoes and Big down Jackets are very mandatory that you must have while doing Everest Base Camp Trek. Check out Our Check list of Equipme
CLOTHING
Hiking Boots ( Good water Proof Shoes): 1 Pair
Hat (Warm), Scarf, and Gloves: 1 Pair
Waterproof Jacket: 1 pcs
Light Weight Trouser ( Zip off is Better): 1pcs
Running shoes, Sandals or Flip shoes
Wool Bled Shocks -2 pair and Thin shocks 2 pairs
Thermal Underwear: 2 pairs
Sun Hat: 1 pair
Quick Dry/ Fleece T-Shirts: 3 Pairs
Down Jacket (Min -10C) Depends where/When you are trekking
EQUIPMENT
Backpack 30-40 ltrs ( If you have porter, just bring day bagpack)
Sleeping Bag (Scenic Nepal Treks Provide you)
Maps, Torch (Flash Lights) and Water Bottle
Duffel Bag (Scenic Nepal Trek Provide you)
Hiking Poles - 1 pair
MISCELLANEOUS ITEMS
Toiletries
Quick drying Camp Towel
Laundry Soup Powder or bar
Toilet Paper and Cigarette Lighter ( If you Smoke)
Sunblock Cream and Lip warm
Polarizing Sunglasses
Water Purification Tablets- 1 Packet ( 50 pices)
Medical and First Aid Kit Box (We Scenic Nepal Treks Provide you, however, we recommend you to use your own if you have)
Locks for your Bags during trek
Still Have Questions? Check some of Top asked Questions by Our Clients about Everest Base Camp Trek here