The Everest region (Khumbu) is one of Nepal's most renowned tourist destinations, notable for its stunning mountain peaks and its residents (the
Sherpas) loyalty and kindness. TheEverest Base Camp Trekis one of the most scenic treks in the Everest region. The Cho La High Pass requires some technical
expertise. But with good health and acclimatization, you will have nothing to worry about. Trekkers find the package to be arduous and rewarding. You will see some of
the highest mountains on earth rise to the stars throughout the journey.
Everest Base Camp Trekking is not just about reaching the foothill of the world's tallest mountain. It is an amalgamation of high-altitude topographical experience and people's cultural understanding. Too many superlative activities do make it an exciting prospect of finding the inner self of your traveling desires. From adventure to creation of momentous events EBC trek tops all. The journey starts with an adventurous flight to the world's most extreme airport the Lukla Airport from Kathmandu. From temperate to alpine forests trekkers ascends and descend through the valley of moraines and glaciers. Places like Phakding, Manjo, and Sagarmatha National Park Entrance are covered before halting for acclimatization rest in Namche Bazaar.
Trip Facts
Your Trek Maximum Height: Kalapatthar 5,545 m (18,192 ft)
Names of Everest: Sagarmatha (Local Language) and Tsomolangma (Tibetan Language)
Lukla Airport: One of the extreme adventures Airport in the World
Namche Bazar: Capital of Khumbu region
Mountain scenery: Lhotse (8,516 m-24,940 ft), Nuptse (7,855m-25,772 ft) and Mt. Makalu (8,463m/27,758ft), Mt. Pumori (7,161m/23,488ft), Tharmarsarku (6,623m/21,723ft) with many more
Trip Highlights
Local Town of Namche bazaars - a Popular Sherpa People Town
Panorama view from Syangboche including Mt. Everest 8848m
Sherpa people and culture
Closed view of Thamserku, Amadablam & Pumori
Sunrise view from Kala Patthar including breathtaking views of Mt. Everest
Everest base camp an altitude of 5360m
Khumbu glacier, one of the biggest glaciers in the Himalayas
Top Trekking Packages in Everest Region
Always keep some Extra Days before and after Your trek when you book Your Fights
Lukla Airport, mountain Airport situated at an altitude of 2,800m, always face the weather problem. Flights always depend on Weather conditions. So in case of that, it may take you to flight cancellations and delayed for propose of safety. Therefore, it is very better to have extra few days (1- 2 days) in Kathmandu after your trek. During your time in Kathmandu, You may visit some of the Cultural and natural UNESCO heritage sites, which leads to numerous Temples and Monuments. As we all know, Kathmandu itself is known as the Home of God where you can find a great Number of Temple than Houses.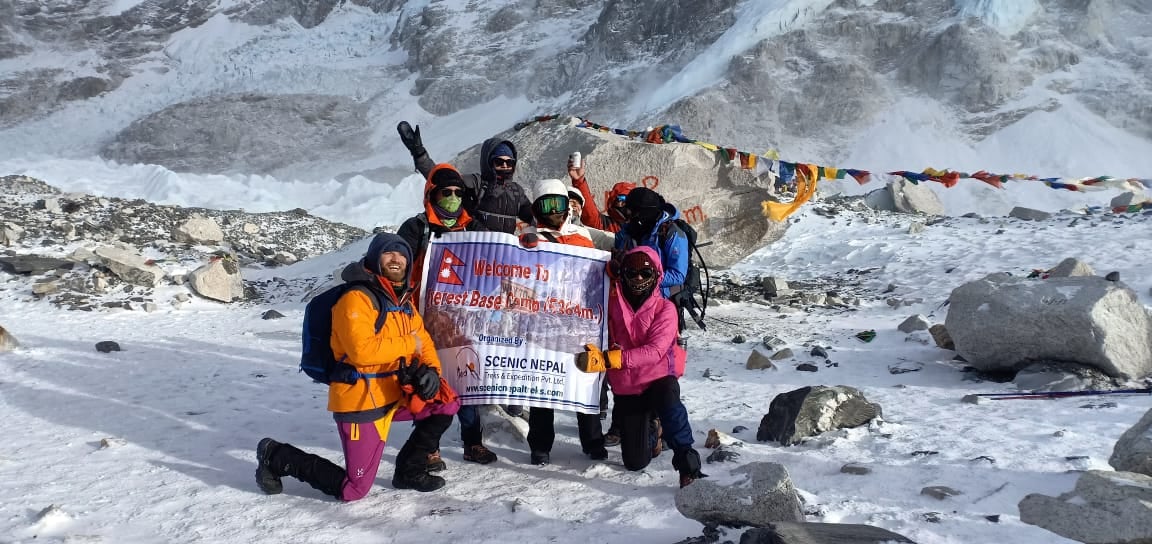 Check your Health before you come to Nepal
Everest Base Camp trek in Nepal remarks as one of the top trek with a lifetime experience of Trek. At the same time, you need to have good physical fitness to do the EBC trek. Trekkers who are suffered from Asthma and heart Dieses are not recommended to do this Trek. So please make sure you are in Fit before doing Everest Base Camp Trek
Accommodation and Meals in Everest Base Camp Trek
Everest Base Camp trekking offers you good accommodation compare to other trekking regions including Annapurna Base Camp and Langtang Valley Trek. You will be accommodated at the Local Tea House Lodge. Normally, the tea house lodge has twin sharing beds with attached and non-attached bathroom rooms. Foods are basic which will be served by the menu too. You will get to have Western, Indian, and Nepali dishes.
Best time to do Everest Base Camp Trek
Well, Nepal has different seasons for trekking adventure. Beginning from September to December and March to June is the best time of the year. If you are looking for cold weather and snow, March to June is the best time. However, it is cold. So please, plan properly which weather you prefer to hike.
Good Insurance for Everest Base Camp Trek
Well, we all know Everest base camp trek leads you to the Base of Giant Mt. Everest an altitude of 5360m. It is very important to have good Insurance in case of Emergency. Sometimes you may suffer from Altitude Sickness when getting into high altitude, we need to fly down or get back to the hospital. So please make sure, you have made good insurance that covers emergency rescue and medical expenses before you go trek.
Knowledge of Acute Mountain Sickness
While doing Everest Base Camp Trek, high altitude also comes along day by day. In general, when we get higher than 4000m, you may have chances to suffer from Altitude sickness. Altitude is very unpredictable that we never know who can suffer from it. So it would be very good if you get also some knowledge about it.
Expenses will increase when going higher and higher
Everest Base Camp trek is not connected with Road so that Yaks and porter are main means of Transport. Every day hundreds of hundreds of porters carry loads of Food and Drinks from Lukla to EBC. So that transportation charges comes higher. While taking Everest Base Camp trek packages with Scenic Nepal Treks, will include all your expenses and look after everything is going well.
Do not miss Kalapatthar (Recommended to go in the Morning)
From Everest Base Camp Mount Everest cannot be seen. Kalapatthar is a viewpoint located at an altitude of 5500m offers you breathtaking views of the Mountain including the World's Highest Peak Everest. It is much recommended to visit in the morning so that you can capture the glorious Sunrise.
Weather Condition of Lukla Airport
Lukla, one of the extreme adventurous Airports of Nepal and the World. It is your gateway to Mount Everest and many popular trekking trails in the Everest region. Lukla flight always depending on the weather condition. Located at the highest altitude of 2800m, weather is very changeable ofter. Therefore make sure that you have got an earlier flight.
Checklist for Everest base Camp Trek
Proper planning and equipment will make your trip more efficient and successful. To do Everest Base Camp Trek, you do not need to have special fancy equipment but make sure that you have proper.
This given Equipment is a general guide to the things that you may bring during trekking. Your trekking equipment list will be very dependent on the trekking Region and season that you are going to do in. However, these are the most useful list that most of the trek and season you need to bring. We Scenic Nepal Treks recommend you to this bring Equipment as given:
Clothing
Trekking Boots and Spare Laces
Hat (Warm), Scarf, and Gloves
Waterproof Jacket
Trouser
Running shoes, Sandals, or Flip shoes
Wool Bled Shocks, liner shocks
Thermal Underwear
Sun Hat
Fleece Jacket T-Shirts (Quick Dry)
Down Jacket (Min -10C) Depends on where/When you are trekking
Equipment
Backpack
Sleeping Bag and Silk Liner (Scenic Nepal Treks Provide you)
Maps, Torch (Flash Lights), and Water Bottle
Duffel Bag (Scenic Nepal Trek Provide you)
Miscellaneous Items
Toiletries
Quick-drying Camp Towel
Laundry Soup Powder or bar
Toilet Paper and Cigarette Lighter ( If you Smoke)
Sunblock Cream and Lip warm
Polarizing Sunglasses
Water Purification Tablets
Medical and First Aid Kit Box (We Scenic Nepal Treks Provide you, however, we recommend you to use your own if you have)
Locks for your Bags during the trek
Ear Plugs
For more details please check our more details checklist here.