Manaslu Circuit Trek Difficulty & Training
Before you embark on a journey in the Manaslu region, you have to prepare your body and mind for all the challenges that lie ahead on the trail. We don't want you to take this trek lightly because of its recent popularity over other famous trekking routes-
Everest Base Camp Trek
and
Annapurna Circuit Trek
. Manaslu Circuit Trek is one of the difficult yet adventurous treks in the Himalayas.
With proper preparation, physical fitness, and support, anyone can do
Manaslu Circuit Trekking
. There are different factors, from a well-made itinerary with ample acclimatization days to making sure your body can handle all the ascents & descents throughout the trek.
Therefore, we have come up with this Manaslu Circuit Trek blog to brief you about all the training and preparation you have to do as a beginner or experienced trekker for Manaslu Trek.
But before that, let us give you a quick idea about the Manaslu Circuit Trek route and its difficulty.
Manaslu Circuit Trek route
Manaslu Circuit Trek is a great choice if you want to explore the isolated parts of the Himalayas. Geographically, most of the terrain is steep, rugged, and rocky. No wonder why Manaslu Circuit Trekking is called an off-beat trek in Nepal.
Manaslu Circuit Trek itinerary traverses the northern Himalayan range. Starting from 710 meters at Soti Khola, the Manaslu Circuit Trek route gains a whopping altitude of 5,220 meters at Larkya La (pass). The total Manaslu Circuit distance is approximately 177 kilometers that you will be covering over 10 to 12 days on a standard 16 to 17 days Manaslu Circuit Trek itinerary.
From Kathmandu, you can access the starting point of the trek, Soti Khola, within 8 hours of drive. The initial part of the Manaslu Circuit Trek ascends through the steep Budhi Gandaki gorge. You will be crossing thrilling suspension bridges over rushing rivers.
Passing by remote villages, dense forests, and pastures, you will approach the top of Larkya La. It is the most challenging section of the Manaslu Circuit Trekking. There is no technical climbing, however, the high elevation and snowy, off-beat path make it strenuous.
Manaslu Circuit Trek Map
Check out our Manaslu Circuit Trek map below for more information about the trekking route.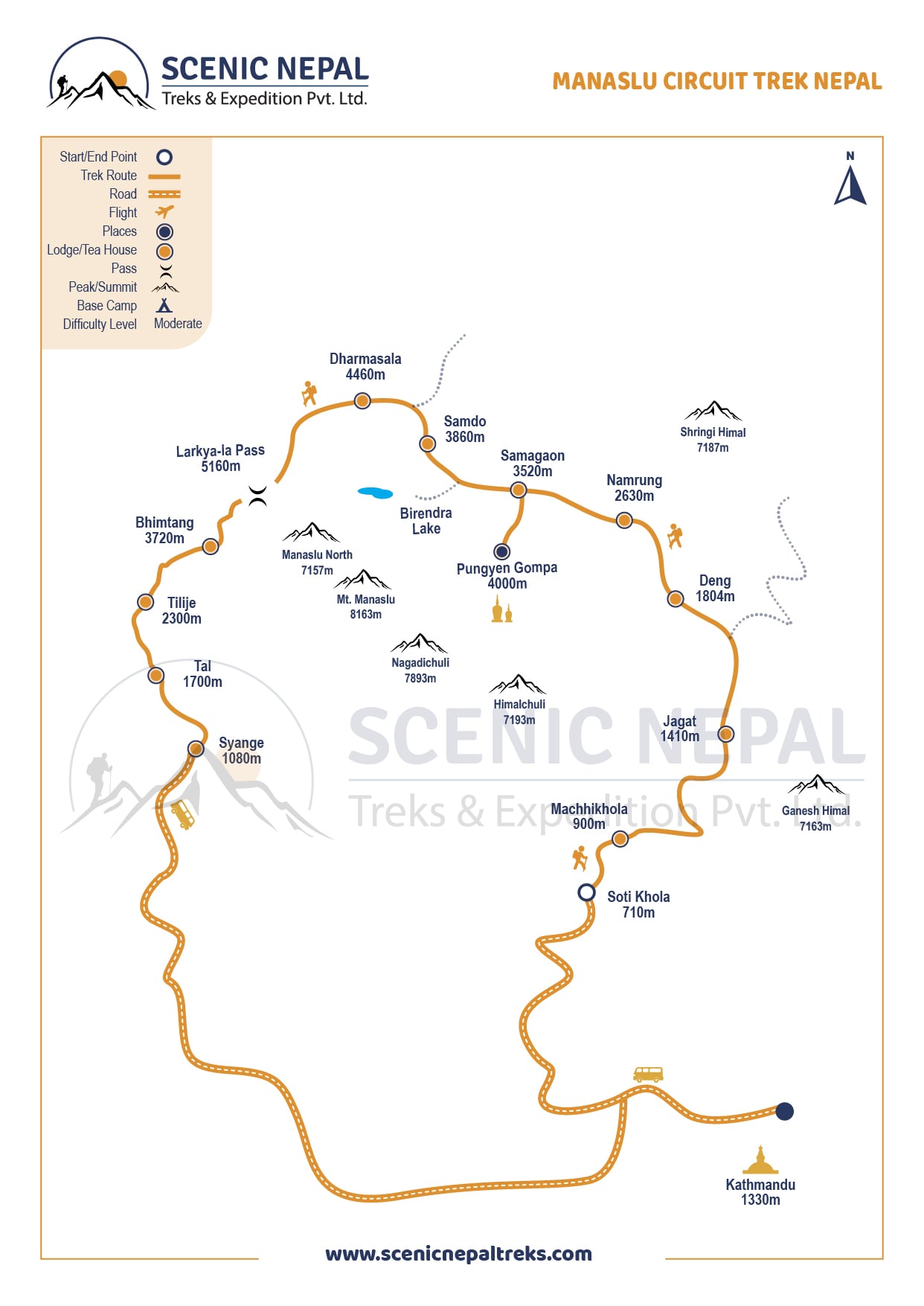 How difficult is Manaslu Trek?
From the above brief about the Manaslu Circuit Trek route, you may guess the difficulty level of the Manaslu Circuit Trek and its strenuous.
Each day, trekkers have to walk around 15 to 20 kilometers, which means 6 to 8 hours of the walk each day. This can get short or long as per your itinerary. The uneven and rocky trail makes the walking difficult and exhausting.
As you begin to touch high elevation, the trees become less, and the exposure to snow, sun, and the cold wind rises. Along with that, the isolation of the Manaslu region from the rest of Nepal, of course, has kept it unspoiled but also has made it harder for trekkers to survive in basic limited facilities.
Moreover, above 2,500 meters, you will begin to feel heaviness in your body, and the risk of altitude sickness also increases. That's why we always recommend trekkers to not rush and give their bodies ample rest along the trek. Regardless of your age, experience, and fitness, you can still get symptoms of altitude sickness.
It doesn't matter whether you are an experienced trekker or a beginner trekker, if you are not properly prepared for the Manaslu Circuit Trek, then the overall journey can become a nightmare for you.
You might be wondering what exactly acclimatization is?
Acclimatization means adjusting your body with lower levels of oxygen and decreasing air pressure, which is a typical high altitude factor. You hike to a higher elevation and spend the night at a lower elevation to acclimatize.
There is a term called altitude line, which means the trekker will not experience any symptoms of altitude sickness up to this line. The principle here is to trek up to this line and allow your body to acclimatize before progressing to the following altitude line.
Altitude Sickness Symptoms
Below are some mild symptoms of altitude sickness that most trekkers see. No need to worry, it gets resolved in 1-2 days of resting. Our Manaslu Circuit Trek package is planned to let you rest and trek simultaneously.
Dizziness
Lack of sleep
Loss of appetite
Nausea
Shortness of breath
Headaches
Fatigue
Tips to cure symptoms of altitude sickness
If you see any of the above symptoms, do not ascend further
Rest at the same altitude until the symptoms subside
Hike to a higher point and descend to sleep at a lower point
Drink plenty of water and fluid- dehydration can cause the onset of AMS
Make sure your Manaslu trek itinerary has sufficient rest days
Avoid smoking or drinking any kind of alcohol
Training for Manaslu Circuit Trek
Begin preparing for the Manaslu Circuit Trekking 8-12 weeks before the commencement of the journey. Manaslu Trek preparation involves getting your body and gears ready for the venture. To train your body for the trek, you have to focus on elevation training, aerobic conditioning, and strength endurance. You have to be able to walk long hours with a day pack.
Full body workout twice a week with other activities like hiking, swimming, cycling, etc will help you increase your stamina and strengthen your muscles. For hiking, if possible, choose a similar terrain. You have to be focused on walking duration rather than distance. Another alternative to hiking is walking hill intervals on a treadmill and stair stepper 2x per week.
You should also check with your doctor before booking the trip. You have to be aware of all the things that your body may react to during the trek. With proper preparation, the right pace, and maintained altitude gain, both young and old trekkers have successfully finished the Manaslu Circuit Trek with us, enjoying every single second.
In short:
If possible, hiking is the best way to prepare for the trek. Your body will learn to walk on uphill and downhill trails while carrying a day pack. You can start small and build up your endurance over time. Walk for 6 to 8 hours with minimal break time.
Gym workout to improve your core strength and get your legs ready for the trek. 45 minutes on the treadmill hill setting, 10 minutes stair-stepping machine at a speed of 30-45 steps per minute, and 5 minutes slow walk with no incline will work wonders. You can also add three sets (30 each) lunges and squats to build leg muscles.
Go on long hikes on rugged terrain with a daypack and hiking boots. It's like replicating the actual trek condition.
Trust us, you will not love to walk long hours of the rough path in new, uncomfortable trekking boots. Get your gears and trekking boots ready early, break in and get used to them.
Swimming, jogging, walking, and cycling will train you to keep up with your breath and increase cardio endurance.
Practice stretching to deploy it at the end of the walk every day during the trek. 5-10 minutes of a stretch at the end of the day will help you a lot to get ready for the next day.
Don't push too hard just before the beginning of the journey to Nepal. Take a good rest and heal your body. Stay active but don't overdo it.
Best time to do Manaslu Circuit Trek
Besides monsoon and late winter, one can trek to Manaslu Circuit throughout the year. But, if you want to have the best trekking experience, then March to May (spring) and October to November (autumn) are the ideal months of the year to trek in the Khumbu region.
There are different perks of trekking in these two seasons. You will have stable weather and a moderate climate, which is very important for a successful trek. Similarly, the views of snow-clustered mountains are fantastic, and the diverse vegetation along the way make the journey more pleasant.
If you are considering trekking in the winter, which we don't advise, then get ready to bear the extreme cold. The temperature gets as low as -17⁰C (1.4⁰F) or below it. The route may get blocked because of heavy snowfall, and the flights can see numerous disturbances.
How to find an ideal trekking company for Manaslu Circuit Trek?
It really depends upon the individual, their needs, and ethics. The most considerable advice we can give is to look out for the trekking companies' expertise, values, and contribution towards society. Verify whether they follow sustainable trekking and tour or not. If they fairly compensate guides and porters or not. Likewise, the quality of service and attention they provide to their guests.
Trek gear on Manaslu Circuit Trek
Following is the list of gear you will need for Manaslu Circuit Trekking.
Important documents and items
Valid passport, 2 extra passport size photos, airline tickets
Separate photocopies of passport, visa form (easily obtained at Kathmandu airport), proof of insurance
Dollars, pounds or Euros in cash for purchasing Nepalese visa at Kathmandu airport, for paying for restaurants and hotels, for gratuities, snacks, and to purchase your own drinks and gifts
Credit cards, Bank/ATM/Cash machine cards for withdrawing funds from cash machines (bring a photocopy of your cards), traveler's checks, etc.
Head
Bandana or headscarf, also useful for dusty conditions
Warm hat that covers your ears (wool or synthetic)
Headlamp with extra batteries and bulbs
Sunglasses with UV protection
Prescription sunglasses (if required)
Upper Body
Polypropylene shirts (1 half sleeve and 2 long sleeves)
Light and expedition weight thermal tops
Fleece wind-stopper jacket or pullover
Waterproof (preferably breathable fabric) shell jacket
Down vest and/or jacket *
Gore-Tex jacket with hood, waterproof and breathable
Hands
1 pair of lightweight poly liner gloves.
1 pair of lightweight wool or fleece gloves
1 pair of mittens, consists of 1 Gore-Tex over mitt matched with a very warm polar-fleece mitt liner (seasonal)
Lower Body
Non-cotton underwear briefs
1 pair of Hiking shorts
1 pair of Hiking trousers
1 pair of lightweight thermal bottoms (seasonal)
1 pair of fleece or woolen trousers
1 pair of waterproof shell pants, breathable fabric
Feet
2 pairs of thin, lightweight inner socks
2 pairs of heavy poly or wool socks
1 pair of Hiking boots with spare laces (sturdy soles, water-resistant, ankle support, "broken-in")
1 pair of trainers or running shoes and/or sandals
Cotton socks (optional)
Gaiters (winter only), optional, "low" ankle high version
Sleeping
1 sleeping bag (Scenic Nepal Treks will provide you)
Fleece sleeping bag liner (optional)
Rucksack and Travel Bags
1 medium rucksack (50-70 liters/3000-4500 cubic inches, can be used for an airplane carryon)
1 large duffel bag
Safety Check Before & During Manaslu Circuit Trekking
Double-check all the clothing and gears. Be prepared for adverse weather.
Make sure your travel insurance covers air evacuation and medical bills.
Do carry water purification tablets or something like purifying the water.
Carry disinfection gel and sanitizer to maintain personal hygiene.
It is wise to have a satellite phone in the group.
A torch and solar charger will help you a lot during the trek.
Make sure to always stay on the mountainside while passing by mules and yaks.
Do not ascend faster when trekking above 3,000 meters, maintain your pace and take rests.
Do carry a warmer piece regardless of the season.
Stay updated with the weather.
Walk slowly at your pace and do not feel pressure to match others' speed.
Read our Things you must know before doing Manaslu Circuit Trek to know more in detail about the journey.
Pictures Copyright @ Cyril Steward Teo