A Stunning Trek- Manaslu Circuit
Manaslu Circuit Trek is Nepal's premier off-the-beaten-path excursion. The route is popular among trekkers. The way to Manaslu Circuit Trek is very challenging for the trekkers and adventurous as well. You will have a thrilling experience during the trial. It takes 13 to 15 days to complete the Manaslu Circuit Trek. The accommodations mostly are very basic tea houses in this region compared to some of the popular trekking such as Everest Base Campand Langtang Valley Trek. The trek takes you to breathtaking views of the eight highest mountains in the world.
Manaslu Circuit Trek begins at Soti Khola and ends at Besisahar. Despite being a popular destination, the area is not more crowded than the other popular trekking routes. The highest altitude during the trek is at Larkya La Pass, which is 5,106m/ 16,752ft. Domestic flights are not needed for this trek. The path passes through various suspension bridges crossing long rivers. During the whole tour, you will get mesmerizing views of the region.
Throughout the trek, you will be enjoying the scenic views of mountains, including Mt. Manaslu (8166m), Ganesh Himal (7420m), and many more. The route passes through the long Gandaki River. The area is quite remote, yet you will have accommodations by tea houses. Along the way, you will get to visit the caves, which have their historical importance. You will mainly find locals following Buddhist culture in this area.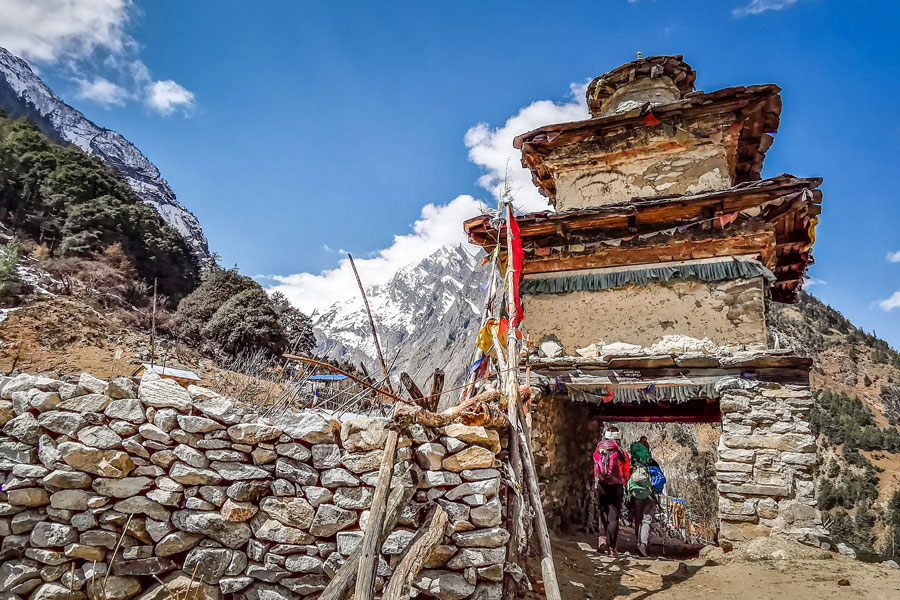 What makes Manaslu Trekking Special from other treks:
The area is less crowded, which makes us easy to explore.
The mesmerizing view of the eight tallest mountains in the world
Breathtaking view of rivers and mountains throughout the trail.
Opportunity to explore and witness the unspoiled tradition
Getting to know the Buddhist culture.
Visit different caves having historical importance.
Challenging and thrilling experience.
"We did a 15 days trekking experience with a total of 14 people in a group under the management of Scenic Nepal Treks and Expedition. The view was absolutely stunning!! Every village offered its very unique tea houses with breathtaking views. Some level of fitness is required for this trek but nevertheless, the hike is very fun.

Also a huge thank you to the friendly guides and helpful porter for taking care of our well-being and belongings, cracking jokes in between the tiring hike, and made this trip even more memorable. Although the number of guides can be increased to better improve the experience, generally we are all well taken care of. Super tired but a fun and worthwhile experience."

Xiang Xing, Singapore TripAdvisor
How long is the Manaslu Circuit trek?
You will be provided with the stunning different Trekking packages by Scenic Nepal Treks, which are mostly planned as per the comfort and adventure of the tourists/ trekkers. The journey begins with a drive to Soti Khola (710m/ 2328ft), which will take around 8 to 9 hours. 18 Days Manaslu Circuit and Tsum Valley Trekare the most famous trekking routes in the Manaslu Region.
The trek will commence from Soti Khola; you will be heading towards MachhaKhola, climbing the ridge above the Kali Gandaki. You will pass through the Gurung village on the way. Spending night in Machha Khola, the next day, the journey continues towards Jagat. You will get to experience a walk on the rugged terrains with a view of landscapes. The next day, the trekking leads us to Deng1600m), passing through the rhododendron, oak, and pines forest. The trail passes through a suspension bridge, taking you to the village. Overnight stay in Deng.
The trial continues to Samagaon (3200m) via Namrung(2600m). You will see many snow-capped mountains which are mainly above 6000 meters. You will also witness the mani walls on the way as the area has primarily Buddhist followers. From Samagaoun, the trekking heads towards Samdo (3740m), which only takes 3 to 4 hours of trek. This area is far from modernization and commercialization. From Samdo, it will take 4 to 5 hours of the tour to reach Larke Base Camp (4470m).
On the way to Manaslu Circuit Trek, you will see many monasteries and prayer flags. Then you will head for the attractive pass of this Manaslu region that is Larkya La Pass (5160m). It offers you the breathtaking view of Mt. Annapurna, Mt. Dhaulagiri, Manaslu, and many more. The trek will end at Besisahar, from where you will take a drive to Kathmandu. You can also sightsee the Kathmandu valley if you have some spare time.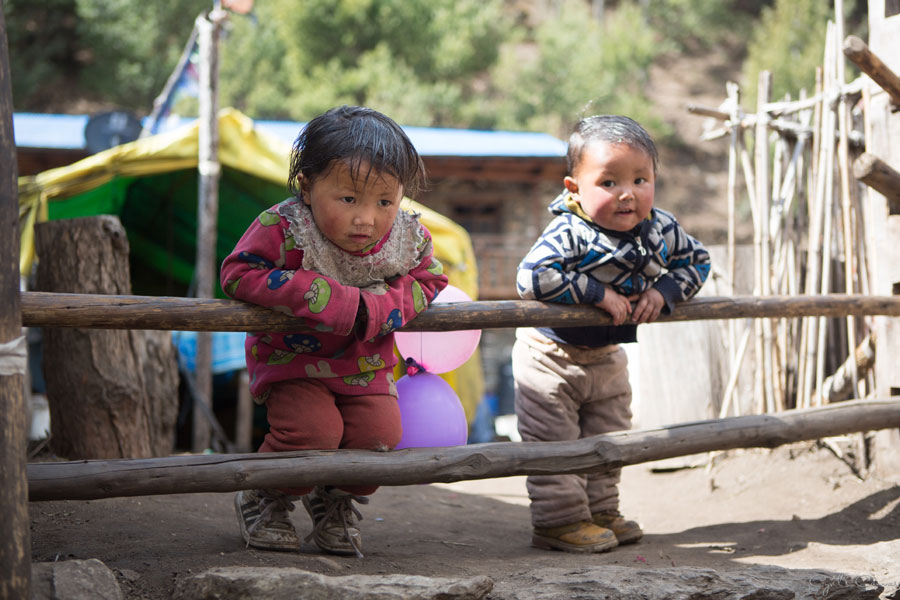 Famous Manaslu Tsum Valley and Tsum Valley Trek
The Manaslu Tsum Valley Trek is gaining lots of fame as it is an all-around mountain trek route. Manaslu Tsum Valley Trek lies in the Gandaki Pradesh of Nepal with a spectacular scenic view. We highly recommend experienced trekkers to choose the trek as the difficulty level is high.
Manaslu Tsum Valley- Annapurna Trek is around 300 km located near Gorkha. The maximum altitude during the journey is 5200m. the Manaslu Tsum Valley Trek leads you to a remote region highly represented by Buddhist culture. At the initial part of Manaslu Circuit Trek, you will pass through George of Bhuri Gandaki river, turning north from this point enters you in the Tsum Valley.
The Manaslu Tsum Valley Trek begins from Macha Khola and ends at Syange (1080m). Trekking through the hidden valley of Tsum, you will reach the land of monasteries, imminent mountains (Ganesh Himal, Boudha Himal, and Sringi Himal), and mani walls. The lifestyle, culture, and scenic view with adventure attracts the tourist in this route. Passing through Tsum valley is the best option during Manaslu Circuit Trek. The best time for this trek is March to May and September to December.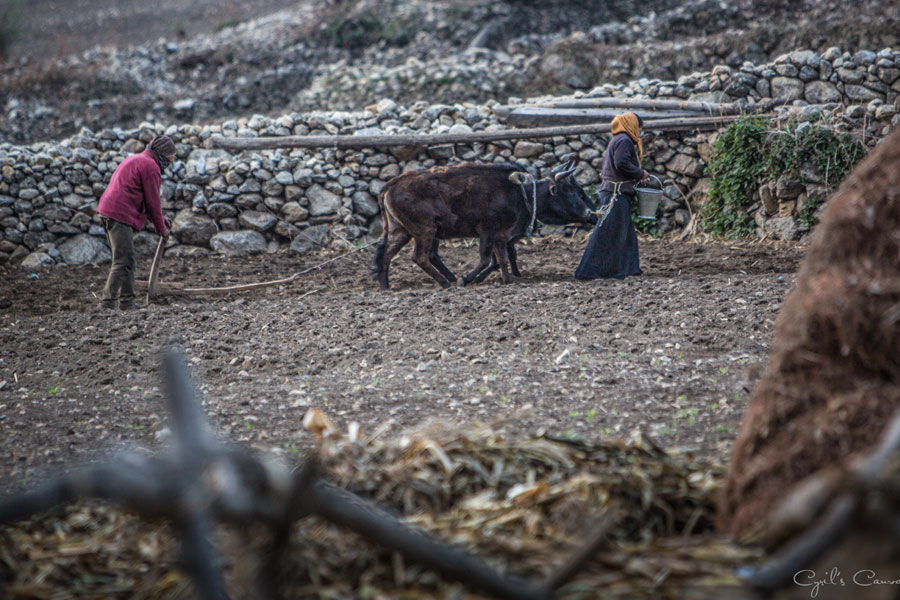 Larkya La Pass: One of the strenuous Mountain Pass of Manaslu Trek
The Larkya La Pass, located on the Manaslu trek route at an elevation of 5125 meters, is challenging. It's the highest point of the Manaslu Trek, and it's also the most difficult. The Larkya La Pass provides a stunning vantage point from which to view the surrounding landscape. Views of the majestic Himalayas await you from the pass. It's a lot of fun, but you'll be glad you did it once you see the Himalayas in all their glory.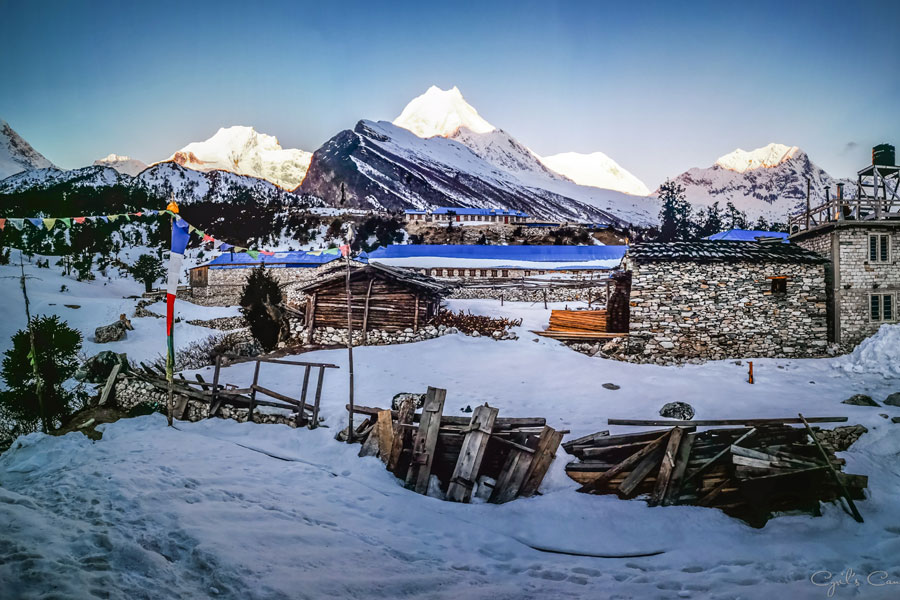 Ancient Tibetan inhabitants and amazing Culture
The majority of the population in the Manaslu area follows Buddhism. Tibetan cultures and traditions have highly influenced this region for decades. Here you will mainly find Sherpa and Tamang community people in the upper part of the Manaslu region.
Manaslu is also known for the monasteries and gompas. Manaslu Circuit Trek is gaining popularity for the scenic views and adventures and the unique culture, tradition, and lifestyle of the inhabitants of this region. In the lower areas, you will find people following Hinduism. It is extraordinary that every village you pass by in this region consists of one monastery at a minimum.
Manaslu Circuit Trek serves you with rich cultural and traditional experiences.
Travel like a Local: Very Basic Accommodation
Regarding the accommodation service during Manaslu Circuit Trek, accommodations in this route are mostly tea houses and guest houses. It is a fact that the Manaslu circuit trek is a popular yet less crowded area.
Despite being a remote area, they have basic accommodations for the trekkers and tourists. You will get to enjoy the local foods and cuisine of Nepal during the trek. There might not be the facility of the internet in all the tea houses.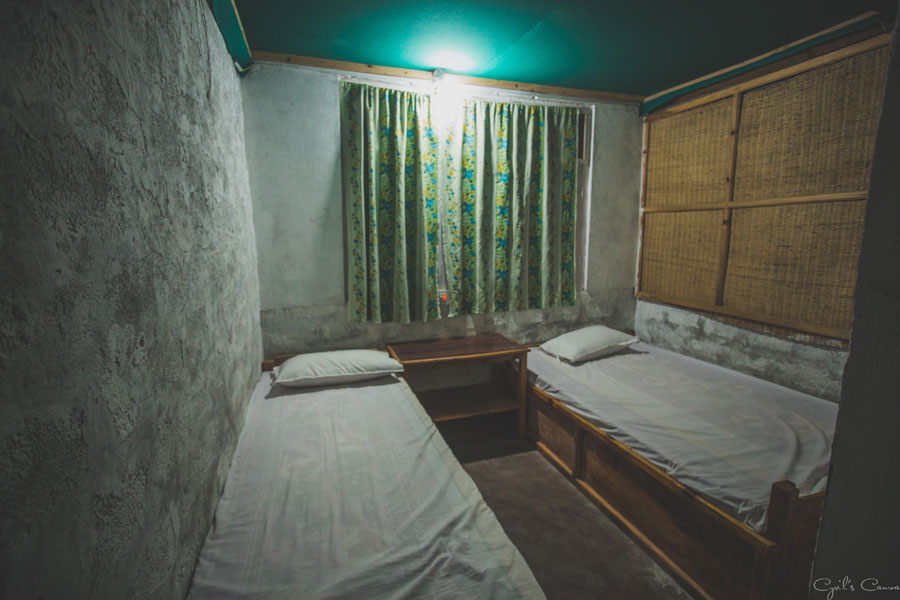 The difficulty level of Manaslu Trekking
The Manaslu trek is one of the most beautiful in Nepal, as well as a bit harder trek, compare to Everest Base Camp and Annapurna Base Camp. It is Adventurers seeking big alpine thrills should consider doing the Manaslu circuit trek. It's a one-of-a-kind excursion with a range of challenging options. However, if you're motivated enough, you can easily overcome the rugged terrain and bad weather.
The Manaslu Circuit Trek is challenging, so it might be difficult for the new trekkers who had just begun trek. The path to Manaslu is steeper and 30% longer than the Everest Base Camp. One cannot go on a tour in this area without a guide.
Altitude sickness is mainly seen in a few trekkers on this trail. Drinking plenty of water, avoiding alcohol, tobacco, drugs, maintaining a balanced diet, etc., can help you prevent altitude sickness. Whenever you feel like having altitude sickness, you can move down to lower altitudes.
Best time to do Manaslu Circuit Trek:
Late September to Mid December
March to Late June
Nepal welcomes tourists every month of the year. Still, the months mentioned above are more suitable for the trek in this region.
Manaslu Circuit Trek is a less busy trail with breaths taking mountains views. Manaslu Circuit Trek is an off-beaten trek in Nepal, leading you to explore the untouched nature of modernization. The locals here are pretty welcoming nature. Along with nature, you will have the opportunity to experience a new lifestyle and culture.
Hence if you want to enjoy the beauty of nature in the Manaslu Circuit trek, you need to begin your tour during the Spring and Autumn Season rather than the rainy season.
The paths to the destination will not let you down as they are full of natural scenic beauty. If you worry about the cost, then the time, energy, and money you spent on this trek are entirely worth it. Manaslu Circuit Trek is usually loved by those trekkers who are seeking some challenges and adventures. At the end of the journey, you will have a bunch of beautiful memory and experiences.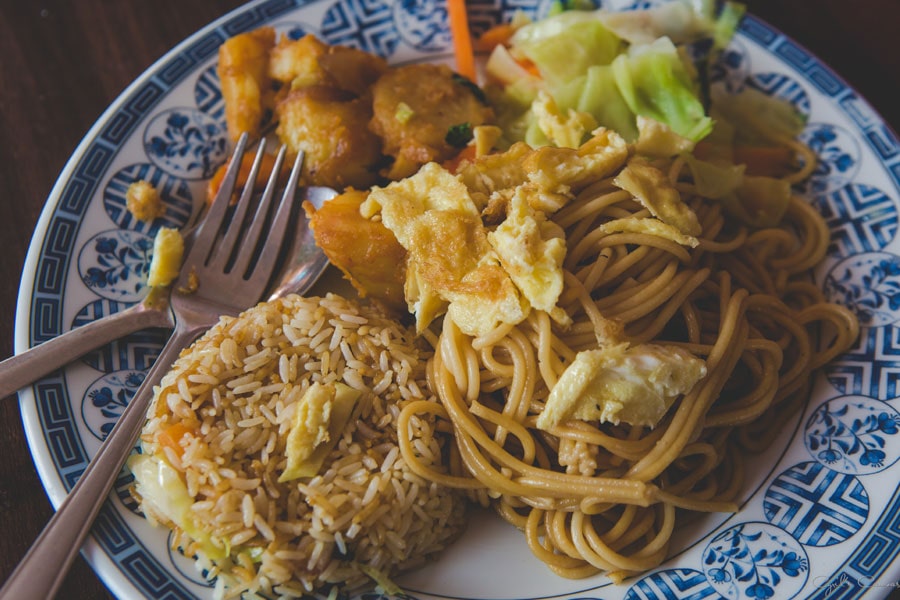 Best weather to do Manaslu Circuit Trekking
The weather in the Himalayan region is widely varied. The weather also affects the trek's difficulty. Himalayan regions can experience torrential rains, blizzards, scorching sun, and chilly winds. During the tour, you'll need to be prepared for any weather. The weather is good during the day but bitterly cold at night.
Due to heavy snowfall, the Larkya La Pass remains closed throughout the winter. Despite being the best time of year to go on the trek, bad weather can strike at any time at a great height.
High Altitude Sickness can be another challenging part of Manaslu Trekking:
As you will be doing Larke Pass, Manaslu Circuit Trek has a high potential to suffer from Acute Mountain Sickness (AMS). Therefore you are recommended to walk slowly and follow the simple tips to avoid AMS.
At the height of 700 meters, the Manaslu Circuit Trek begins in Soti Khola. Soti Khola will give you an average of 400 meters of elevation gain per day. Your body will adjust to the initial 400m altitude gain, but it will take a week to reach Sama Gaun, 3530m.
As a result, while in Sama Gaun, you may experience mild symptoms. As a result, an acclimatization day in Sama Gaun at 3000 meters is recommended. Altitude sickness usually appears after 4000 meters, but in some people, it can occur much earlier.
Basic Tips to avoid Acute Mountain Sickness ( AMS)
Drink more water At least 3-5 Liter per day including tea, coffee, soup, and juice
Have Proper Acclimatization during trek followed by Company Program.
Do not make a rapid ascent
Avoid Alcoholic Drinks, Cigarette, and Sex while in High Altitude ( 3000+ Meters)
Eat well and regularly
Don't make your Backpack too heavy
Climb higher, always sleep lower Ascent less than 300m a day above 3.000m of altitude
Wear proper warm cloth while you are at a high altitude.
Be aware of wind prevention.
If you have mild symptoms, do not proceed higher. Take aspirin tablets. If you have worsening symptoms, go down immediately.
Do not leave your team member behind unattended
Always share your Conditions with your Guides.
Breathtaking Mountain Vistas- Manaslu Circuit Trek
Trekkers will get a chance to enjoy spectacular views of the Himalayas along the way; Manaslu Circuit Trek Himalayan Scenario includes:
Himalchuli (7,893m),
Manaslu (8163m),
Shringi (7,187m),
Ganesh Himal,
Ngadi Chuli (7,879m),
Himlung Himal (7,125m),
Cheo Himal (6,820m),
Kang Guru (6,981m),
Annapurna II (7,939m),
Larkya Peak (6 (8163m).
The Manaslu circuit trek is a challenging Himalayan journey in Nepal. The Manaslu circuit trek is exciting and adventurous because of the stunning views of Mt. Himalchuli, Mt. Ganesh Himal, Mt. Manaslu, and other mountains. Hence Manaslu Circuit trek is for people who want to travel and trek in Nepal's most adventurous region but aren't afraid of heights.
Packing list for Manaslu Circuit Trek:
This list is a guideline to help you pack for your adventure. Also, understand that the items listed below will vary a little according to the season and the trek duration. The weight limit for your luggage is 15 kg.
Important documents and items
Valid passport, 2 extra passport size photos, airline tickets
Separate photocopies of passport, visa form (easily obtained at Kathmandu airport), proof of insurance
Dollars, pounds, or Euros in cash for purchasing Nepalese visa at Kathmandu airport, for paying for restaurants and hotels, for gratuities, snacks, and to purchase your own drinks and gifts
Credit cards, Bank/ATM/Cash machine cards for withdrawing funds from cash machines (bring a photocopy of your cards), traveler's checks, etc.
Head
Bandana or headscarf, also useful for dusty conditions
Warm hat that covers your ears (wool or synthetic)
Headlamp with extra batteries and bulbs
Sunglasses with UV protection
Prescription sunglasses (if required)
Upper Body
Polypropylene shirts (1 half sleeve and 2 long sleeves)
Light and expedition weight thermal tops
Fleece wind-stopper jacket or pullover
Waterproof (preferably breathable fabric) shell jacket
Down vest and/or jacket *
Gore-Tex jacket with hood, waterproof and breathable
Hands
1 pair of lightweight poly liner gloves.
1 pair of lightweight wool or fleece gloves
1 pair of mittens, consists of 1 Gore-Tex over mitt matched with a very warm polar-fleece mitt liner (seasonal)
Lower Body
Non-cotton underwear briefs
1 pair of Hiking shorts
1 pair of Hiking trousers
1 pair of lightweight thermal bottoms (seasonal)
1 pair of fleece or woolen trousers
1 pair of waterproof shell pants, breathable fabric
Feet
2 pairs of thin, lightweight inner socks
2 pairs of heavy poly or wool socks
1 pair of Hiking boots with spare laces (sturdy soles, water-resistant, ankle support, "broken-in")
1 pair of trainers or running shoes and/or sandals
Cotton socks (optional)
Gaiters (winter only), optional, "low" ankle high version
Sleeping
1 sleeping bag (Scenic Nepal Treks will provide you)
Fleece sleeping bag liner (optional)
Rucksack and Travel Bags
1 medium rucksack (50-70 liters/3000-4500 cubic inches, can be used for an airplane carryon)
1 large duffel bag ( Scenic Nepal Treks will Provide you)
Medical
Small, personal first-aid kit. (simple and light)
Aspirin, first-aid tape, and plasters (Band-Aids)
1 skin-blister repair kit
Anti-diarrhea pills
Anti-headache pills
Cough and/or cold medicine
Anti-altitude sickness pills: Diamox or Acetazolamide
Stomach antibiotic: Ciprofloxacin, etc. Do not bring sleeping pills as they are respiratory depressants.
Water purification tablets or the water filter
1 set of earplugs
Extra pair of prescription glasses, contact lens supplies
Toiletries
1 medium-sized quick-drying towel
Toothbrush/paste (preferably biodegradable)
Multipurpose soap (preferably biodegradable)
Deodorants
Nail clippers
Face and body moisturizer
Female hygiene products
Small mirror
Personal Hygiene
Wet wipes (baby wipes)
Tissue /toilet roll
Anti-bacterial handwash
Manaslu Circuit Trek Map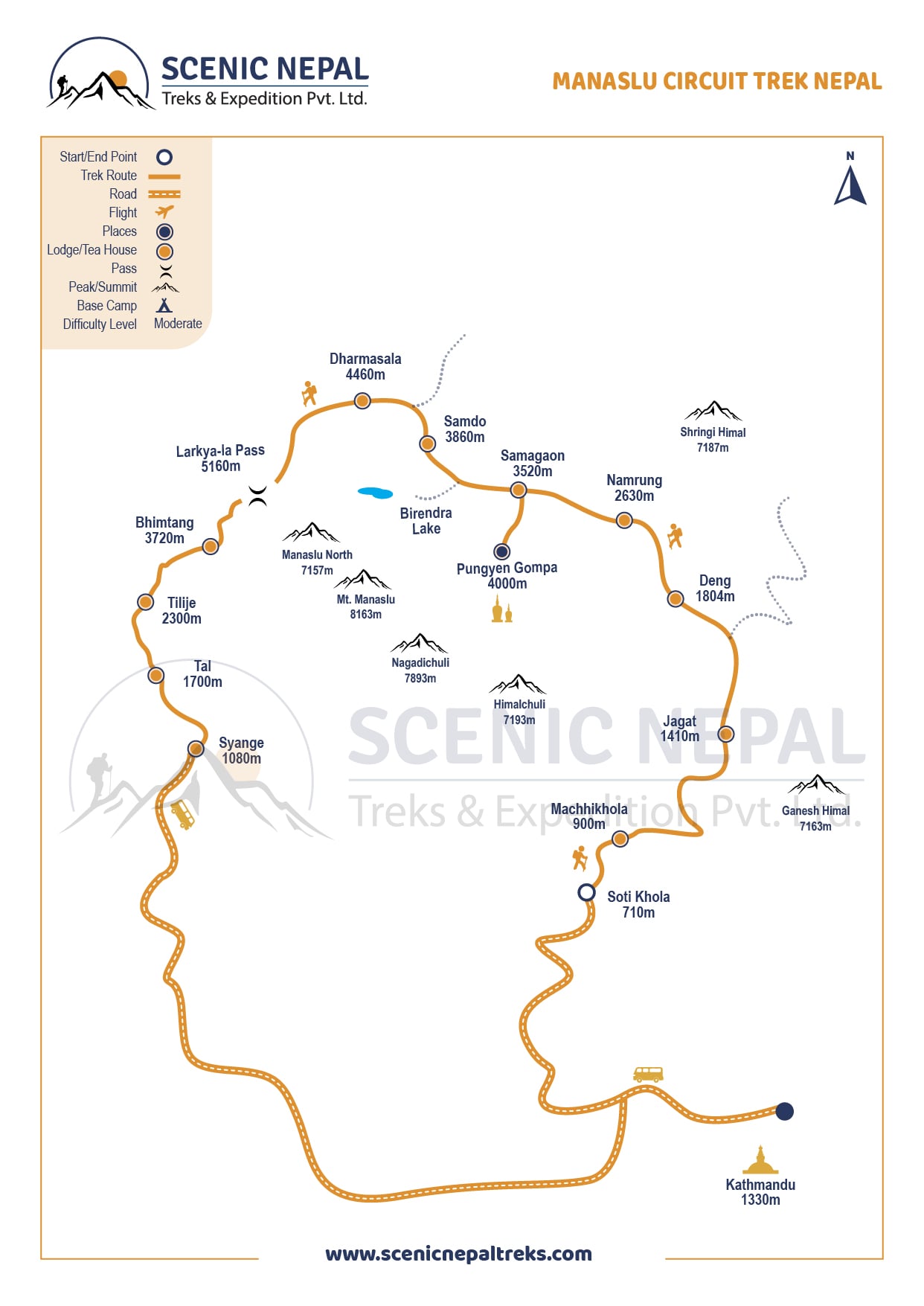 Are you excited? With several years of experience, the Scenic Nepal Treks team would like to welcome you to provide the best service during your trip.
We will give you the best trekking guide knowing different languages. Scenic Nepal always focuses on the traveler's comfort and providing the best travel experience. Hence, if you plan to enjoy a trip to Manaslu Circuit Trek, you can contact us. We strive to provide you with the best possible travel experience at all times.
Photo credit goes to one of best Photographer Cyril's Canvas